Air purifiers and humidifiers are two completely different devices. While a humidifier humidifies the excessively dry air, the air purifier filters pollutants such as particles, pollen, fine dust, viruses, bacteria and animal hair as well as gases and unpleasant odours from the air using a filter system. An air washer combines both of these functions.
Dry and polluted air
For good, healthy air quality, the indoor air needs to be clean and optimally humidified. If the indoor climate is out of balance due to heavy pollution or the air being too dry, it can have a negative impact on health, well-being and personal productivity.
Symptoms caused by poor air
Fatigue
Poor sleep
Difficulty concentrating
Dry mucous membranes
Irritated eyes
Dry cough
Weakened immune system
Symptoms caused by a poor indoor climate
A poor indoor climate can trigger symptoms of illness in people who are weakened by pre-existing conditions. For allergies, where the allergen is carried with the air, the symptoms can be intensified - allergy sufferers are thus unable to rest at home. However, regularly spending time in rooms where there is poor quality dry air can also have a negative impact on people who are healthy.
Too dry air
Bacteria and viruses remain in dry air for longer as it takes longer for them to be bound by water molecules and brought down to ground level. As a result, we breathe in more of them. The relative humidity is measured using a hygrometer. If the value is permanently below 40%, the air is too dry and it's time to do something about it.
Polluted indoor air
The effective level of pollution cannot be measured. However, if there is no special ventilation in a room, it can be assumed that the indoor air is polluted. The sources of pollution vary in nature and can come from people themselves (hair and flakes of skin) as well as the outside world (exhaust fumes and pollen), in the form of particulate and gaseous pollutants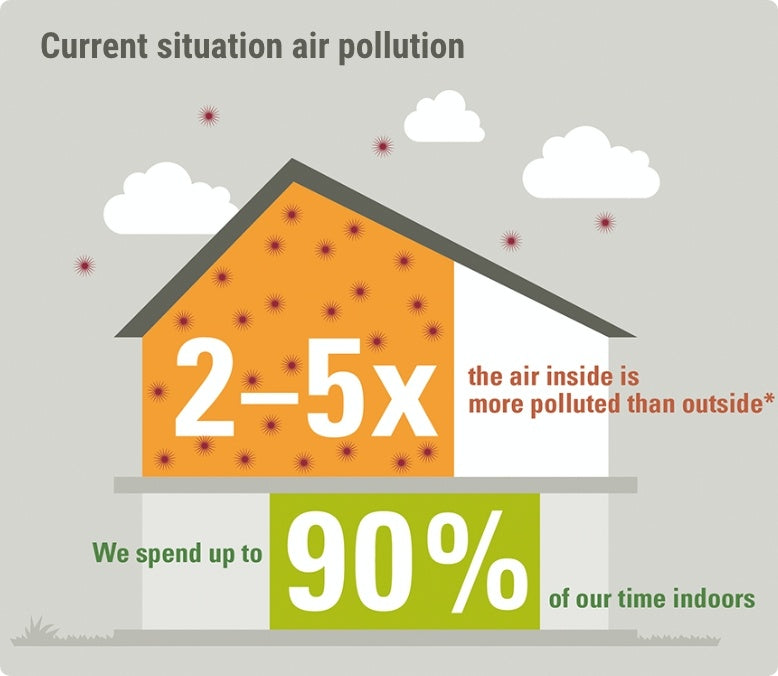 Combat two problems with an air washer
An air washer is a combination of humidifier and air purifier in one device which carries out the two functions of humidification and purification at the same time. Thus, it ensures that you benefit from optimal indoor air in one step, without you having to look after two devices. Make your life easier with a 2-in-1 hero from Stadler Form
How an air washer works
With an air washer, the air is drawn in across a set of discs which rotate in water. In the water tank, particles, pollen, fine dust, bacteria, viruses and animal hair are washed from the air while the air absorbs humidity at the same time. The clean humidified air is then emitted back into the room again. So, the air washer does the job of both its peers: air purifiers and humidifiers. Naturally, air washers need to be cleaned regularly as they have a water tank system. However, this is a quick and easy job.
3 tips for purchasing an air washer
You can measure the relative humidity in a room using a hygrometer which should be set up on a raised surface in the middle of the room, away from doors or windows. If you move your hygrometer to a different place, the sensor will take a few minutes to adjust to the temperature. The recommended value for relative humidity is between 40% and 60%
It will depend on the size of the room as to which device you need. Therefore, you will need to know the size of the room where your air washer is going to be used. Room area is calculated by multiplying the length and width of the room (e.g. 5 x 6 metres = 30 m2). If the doors are permanently open, the area of the next room will have to be added. Room volume is determined by multiplying the height of the room by the area (30 m2x 2.5 metres = 75 m3). And the room size should be doubled for minimum energy houses with controlled ventilation
As air washers have a water tank system, regular cleaning is a must. The easier the water tank and set of discs are to maintain, the easier and quicker cleaning will be. With some devices like George from Stadler Form, you can even put individual parts in the dishwasher. So it is worth looking at maintenance before making a purchase
Happy Faces
Make everyday life better with an air washer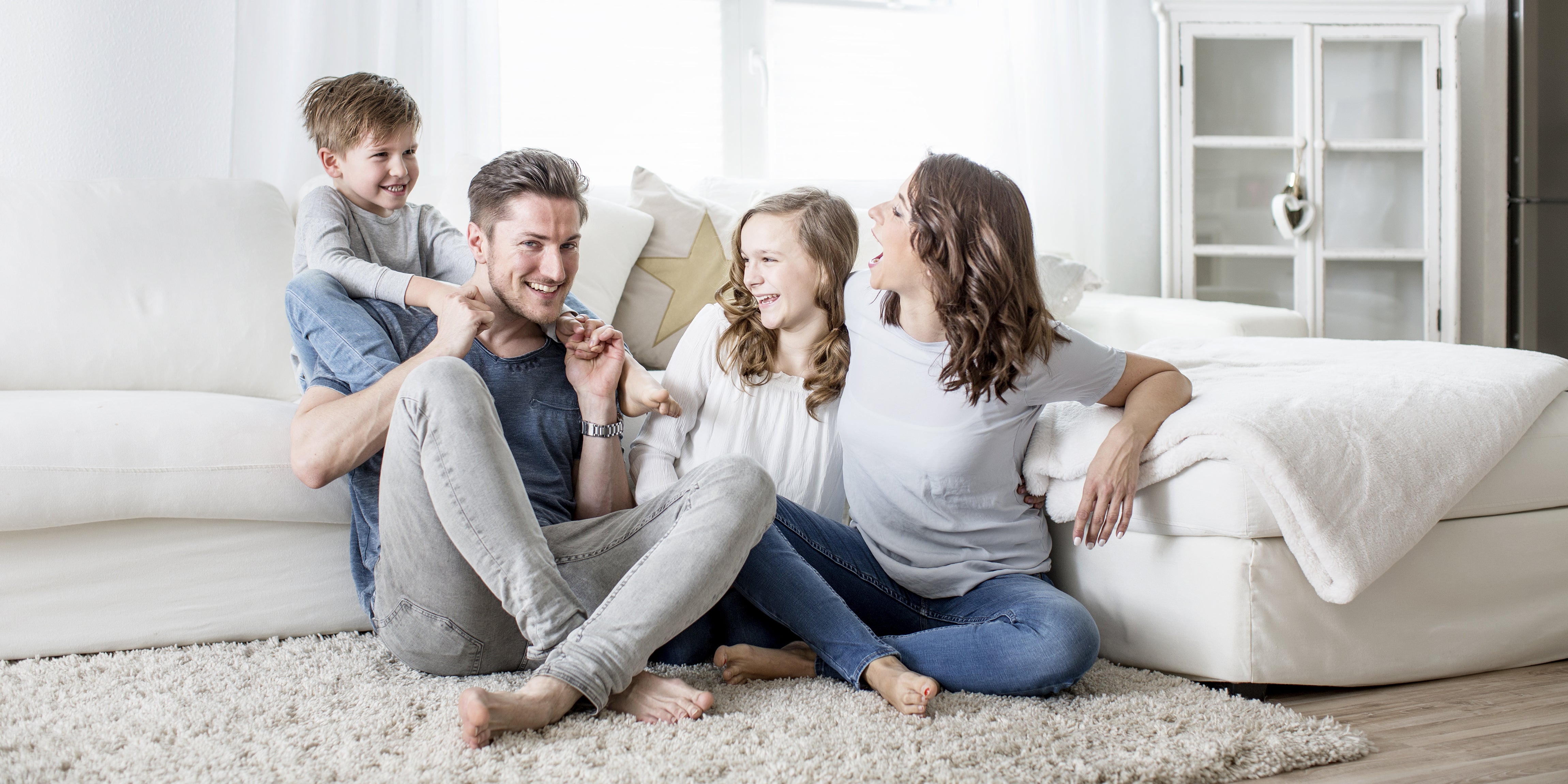 An air washer helps the whole family
Thanks to the 2-in-1 function of humidifying and purifying the air in the room, an air washer is an asset for the whole family. Whether you suffer from allergies, frequent colds or are constantly tired, an air washer supports your health by ensuring optimal humidity and purified air during the dry season. And the optimal room climate helps with your sleep, concentration for homework, alleviates symptoms of colds and allergies, helps to relax at home and much more.
George air washer
Stadler Form technology
through the magnifying glass
The low-maintenance power pack!
View product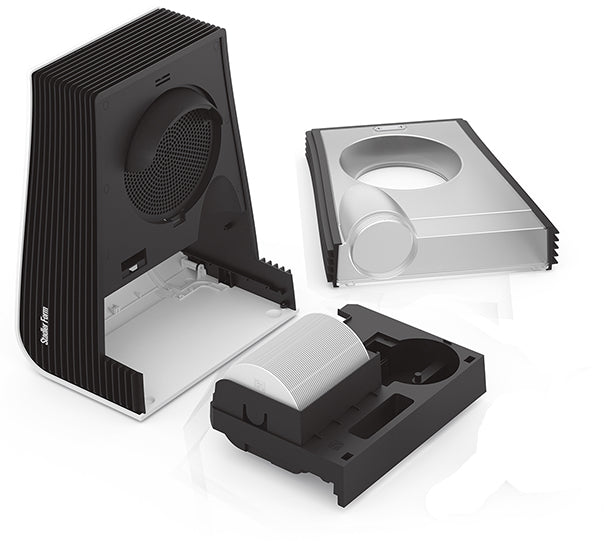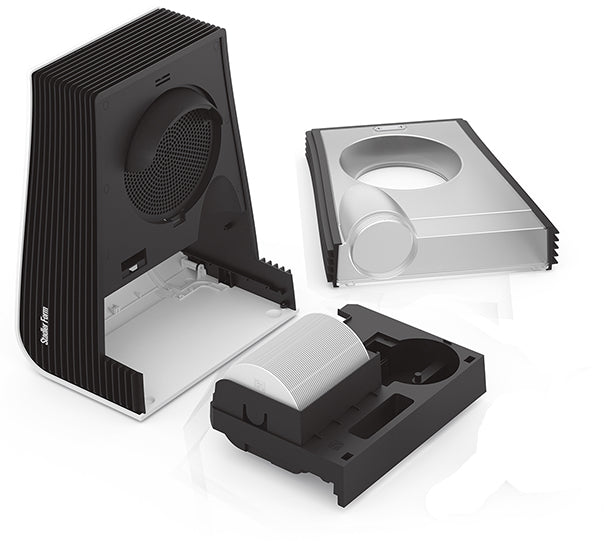 Practical water tank with 3.2 liter capacity
Disk pack and water tray are dishwasher-safe
2 in 1 humidifier and air purifier
Air washers are environmentally friendly 2-in-1 heroes
One advantage of air washers like George and Robert is that they do not need replacement filters. The disc pack rotates in the water, humidifying and purifying the air at the same time. It is equivalent to a filter, except that the disc pack is permanent and does not need to be replaced. This is easy on the environment and on your wallet - but it is important to clean the device regularly.