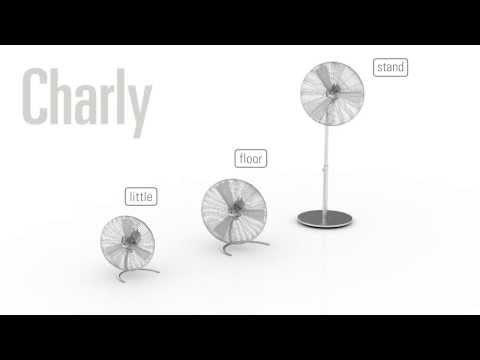 Charly little
SKU: C040E
Moves up to 3300 m³ of air per hour
Horizontal swivel function (oscillation)
Easy cleaning of fan blades
Product information Charly little
The fan Charly has already achieved cult status. The exceptional wind machine is now equipped with oscillation. The ventilator Charly thereby distributes the cool air steadily in the room. With a design resembling a jet aircraft turbine and an air-moving performance to match: three aluminium blades allow this fan to shift up to 3300 m³ of air an hour. But thanks to his rounded, die-cast zinc base, Charly remains firmly anchored on the ground, while it is still adjustable.
Instruction manual and more
Frequently asked questions

To clean the fan blade, remove the securing screw, undo all the fixing clips and carefully remove the protective grille from the front. Now you can wipe the fan blade with a damp cloth and then dry it thoroughly. After cleaning, put the protective grille back on the device (fit the top positioning clip), fasten all the fixing clips and tighten the securing screw firmly.

Charly little's motor housing is connected to his telescopic tube by means of a socket screw located on the side. This can work loose over time. You can secure Charly little's head in an upright position by tightening the screw.
Testimonials
Outstanding after sales service
I had bought my Charly Floor, which I love, from a reseller website back in 2012. We have damaged the motor last summer - the kids misplaced it during the night while functioning, so it fell and burned out (no flame just stopped working). I have emailed Stadler Form customer service and they have sent me even if out of warranty a brand new ready to install spare part without any costs, not even shipping ones, which arrived to Greece in just 2 days in the mid of Covid craziness. I am amazed; that is what I call outstanding customer service!
A classic in a new edition
This fan is a classic in a new edition. Beautiful classic design but enhanced with new technology. This results in a powerful jet of air generated by a quiet motor.
Looks great
Looks great and solid we are very happy with our product
This product has no reviews yet.