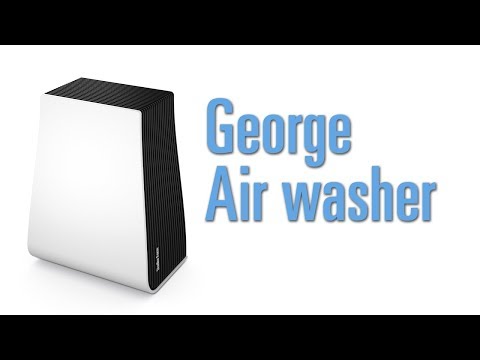 George
Air washer - humidifier, air cleaner. The low-maintenance power pack
SKU: G-005
2 in 1: humidifier and air purifier
Filters particles and unpleasant odours from the air
Disc pack and water base are dishwasher-safe
Fast free shipping within 2 days
George
Sale price

€249,00
Regular price

€329,00
(/)
Product information George
Air washer George is easy to look after, quiet and powerful. He provides healthy humidity and clean air at the same time. His discs rotate in water and filter the smallest particles from the air – a blessing for any allergy sufferer. Both the disc pack and the water base are easy to clean in the dishwasher. George's impressive features include an integrated hygrostat for precision setting of target humidity, automatic mode, dimmable LEDs and the ability to fill your room with fragrance.
Instruction manual and more
Frequently asked questions

Yes, George will switch back on again automatically after a power failure.

The intensity of the fragrance is influenced by various factors:- Type of fragrance (synthetic, natural, ingredients, etc.)- Room temperature and relative humidity (the more humid the air, the stronger the fragrance will be)- Room size (the smaller the room, the more intense the fragrance) In principle, you can increase the intensity of a fragrance by adding a little more fragrance oil. The strength of a fragrance will depend on the fragrance itself. Natural fragrances are often more discreet than synthetic ones and certain ingredients are more dominant than others. It should also be remembered that first and foremost, the device is an air washer and therefore the intensity of the fragrance will never be as strong as the fragrance from an aroma diffuser.
Testimonials
Lovely
George is lovely. It is smaller than I thought so fits everywhere but humidifies much larger spaces than the advertised 60 m2. It helps me breath a healthier air than before. Lovely.
George Airwasher
Like Viktor, George is absolutely a top product. After only 2 days, the air quality and the humidity in my apartment are noticeably improved. It would be advisable to mention that the lime cartridge is not included. in Lucerne we have very hard water. Have ordered them. Like Viktor, the appearance of the Stadler Form products is a beautiful look and is an eye-catcher in the home. Can only recommend the Stadler Form products. The advice on the hotline is also very good. Kind regards, R. Stünzi Lucerne
A powerhouse
It's great how George keeps a relatively large room constantly at 50% humidity. And then he looks really nice. Well done Stadler shape!
This product has no reviews yet.