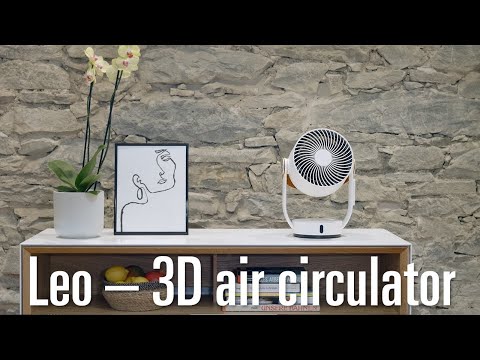 Leo
The fan refreshes all around!
SKU: L-035
3D oscillation mode for optimum distribution of the air flow
Wide range – wind distance of up to 8 meters
Easily accessible remote control with magnetic holder
---
Leo
Sale price

€135,00
Regular price

€0,00
(/)
Product information Leo
Do you want to create a comfortable refreshing climate? Then Leo is the ideal choice. With his innovative 3D oscillation mode, he can provide optimum air distribution in an instant. Leo can also circulate the air flow in a room both vertically (from -5° to 85°) and horizontally and has a range of 8 meters so that everyone in the room can experience a cool breeze. The swing range of the 3D air circulator from left to right can be adjusted to suit your needs and you have 3 angles to choose from, 60°, 90° or 180°. Leo can be set up on the floor or on a table, he is also mobile, takes up very little space and has stunning good looks to boot. His practical carrying handle in synthetic leather means that he can be moved around quite easily and set up wherever he may be needed. From a really quiet, gentle breeze to strong gusts of wind: Leo has four refreshing speed settings to suit every need. He also has an impressive range of intelligent functions including a 1–7 hour timer, a natural breeze mode and a remote control that is magnetically attached to the side of the device. Leo is much more than just a fan: he is the ideal partner for creating a comfortable and pleasant indoor climate – both in summer and in winter
Instruction manual and more
Frequently asked questions

Each time before cleaning, you should disconnect your Leo fan (unplug the mains cable from the socket or disconnect the USB cable from the device). Clean the outside of your Leo with a damp cloth. To clean the fan blades, gently turn the housing to a vertical position. First of all, remove the screw (16) underneath the housing. Then turn the grille (14) anti-clockwise and remove it. Turn the knob (17) underneath clockwise and remove it. The fan blade (15) can now be removed from the housing. Clean the fan blade with a damp cloth and a drop of detergent and then dry it thoroughly. Then clean the air outlet grille and dry it carefully. Now push the fan blade back onto the shaft (18) in the housing first of all, then tighten the knob by turning it anti-clockwise, replace the grille and finally, tighten the screw back up again. Make sure that the grille and the fan blade are completely dry and that the screw underneath the housing is firmly tightened before using the device again.
Testimonials
Silent power
Leo is incredibly cool! Elegant design as always. The different stages of Leo go from a pleasant breeze to a strong cooling wind. Great for the hot summer.
New love
Impressive overall package: great features, pleasantly quiet on the lower levels and an elegant design. I bought Leo for the office and I'm not so sure anymore if I don't want to keep it at home!
He has power!
From a very gentle breeze to a real wind, Leo offers everything. The first two stages are also super quiet. With practical remote control! And of course a unique Stadler design.
This product has no reviews yet.